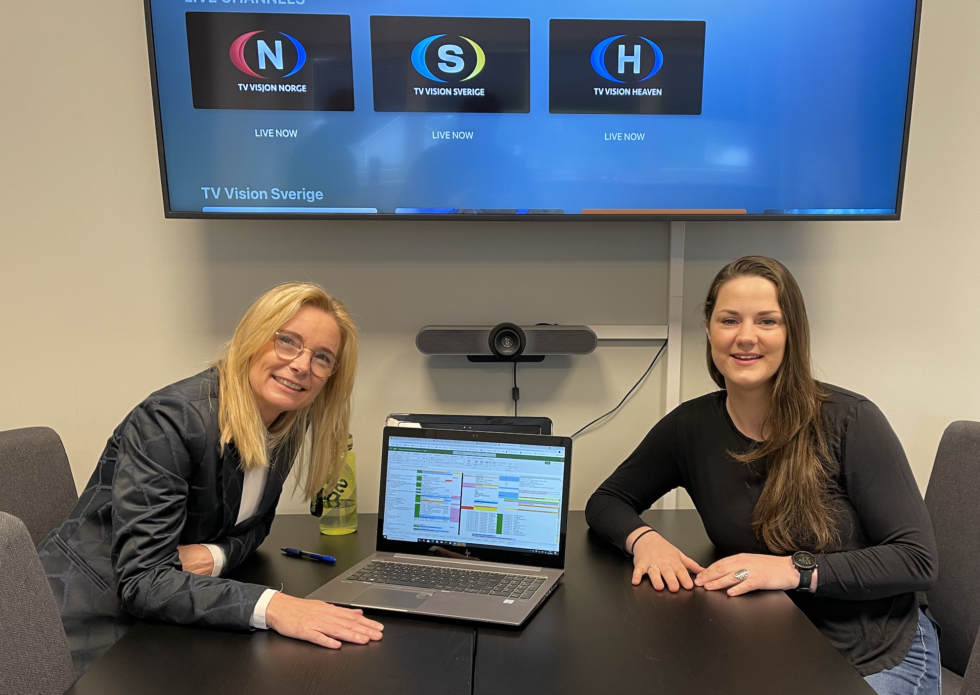 The Dutch dream team are Program Coordinators for both Sweden and Norway
Margreet Gundersen (right) and Maureen van den Bogaardt (left) have two things in common: They both come from the Netherlands, and carry the same professional title, namely program coordinator. But what does this job entail, and what brought them to Norway?
"In short, we are responsible for planning the broadcast time for all content that goes on air. A close collaboration with the channel's broadcast partners is absolutely essential – together we create the best TV as possible," says Margreet.
Reaching the younger audience in Sweden
Margreet Gundersen has been employed by Vision Norway since 2010. She says that her first position was in the channel's archive department, but that she eventually got the job as product coordinator. The job began with TV Vision Norway's own programs, and then for the sister channel Vision Sweden, when it was decided to increase the focus given to the Swedish audience. "What is very exciting about Vision Sweden is that we have succeeded with untested concepts. There has been a positive attitude to say yes instead of being skeptical, also from the leadership side and it has yielded positive results. I am proud that Vision Sweden reaches out with the gospel to a younger audience."
Long experience in the TV industry
Maureen van den Bogaardt recognizes herself well in Magreet's job description. She has been employed by Visjon Norge since 2015, and together with Jan Åge Bråten (discussed in a separate case here) is responsible for the planning work with the programs that run on TV Visjon Norge. However, the experience in television business goes back further than that. In the Netherlands, she was employed as a director at several of the major channels. "But working with Christian TV let alone working with the tasks I have today, was something completely new for me," says Maureen. However, Margreet was optimistic from day one: "When I heard that a woman from the Netherlands, with a background from the TV industry had applied for a position here at Vision Norway, I immediately knew that she had the right expertise," adds the cheerful colleague.
Experiencing the same challenges
But the job has its challenges. They both agree that working days can be demanding at times: "We strive to plan quality content for 24 hours a day, seven days a week. It is clear that this can be quite challenging since the channel never takes a break," says Maureen. "There is a certain "overlap" in the program offerings of Vision Sweden and Vision Norway. Then it is important that the two stations communicate with each other, because we don't want the same content to be broadcast simultaneously on both channels. It will damage the variety," Margreet adds.
Efficiency through preparation
It is too late to make changes after the programs have been broadcast on television. Therefore, they both work to ensure that everything is planned in advance to the letter. Collaboration and communication are familiar concepts and very important: "When errors occur, it is usually the result of lack of communication or misunderstandings. I am very happy to work in a creative team. This job cannot be done without a positive collaboration," says Maureen. Margreet Gundersen also believes that it is important to think about target groups when it comes to broadcast times and the audience: "We have a different audience at 8:00 am on a Saturday morning than a Monday morning. It is important to be aware of this. Children's programs and heavier teaching programs are not sent at random times," she says.
Thinking about future TV solutions
They are both of the opinion that the traditional TV solutions will not remain the same. Vision Norway has recently invested heavily in digital services; such as online streaming services and podcasts. "It is important that we as a Christian channel adapt to the times we live in. There is a great demand for modern TV services, is quite certain. I myself, belong to a generation that has a sense of the old-fashioned way of watching TV," says Maureen Margreet is of a slightly different opinion: "I myself do not even own a TV. We watch programs when it suits us. It is clear that such solutions take up more space in the media everyday life of most people. But as Maureen says, there are still several generations who prefer traditional solutions. Although the heyday of traditional TV viewing is soon over, it will continue to be an important part of our work for years to come."
Moved to Norway for love
However, they completely agree that it was a good choice to let love move them to Norway. Margreet found her Norwegian husband at a Christian festival many years ago: "Now we have started a family, and together we have three children. I've probably come to stay. But I never become so Norwegian that I stop feeling the nostalgia for the Dutch cycling culture." "It is also completely insane how traditional Norwegians are. It can be nice in a way, but there must be openness to new perspectives as well," says Margreet. Maureen, for her part, is married to a man of Swedish origin, but with strong ties to Norway. With that, it became natural that they settled in Norway. "We have both become good Norwegians. Like Margreet, I have started a family, and I have been thriving. But I notice well both advantages and disadvantages of both cultures. What I miss about the Netherlands is the strong creative way of thinking, and social events such as festivals, which is a rarity in Norway. At the same time, the Norwegian relationship with nature and outdoor life is very special. I really appreciate that," says Maureen in the end.